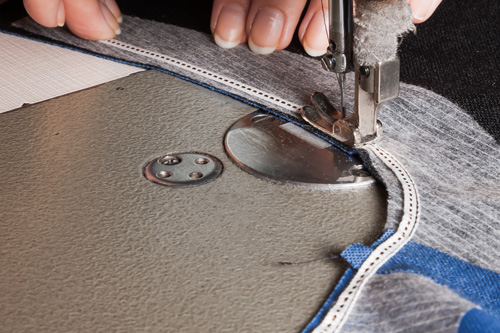 Save money and time.

Have you ever wondered how to diminish production costs ? How to shorten the time necessary for sawing the products?

If you want to accelerate the production, save time and minimize production process- our product is just for you.

We are the only manufacturer strengthening band .The band is for strengthening the stitches while ,for example , sewing in the sleeves. Then you do have to iron in /press into to non woven fabric but it is enough to sew the band in, which makes it impossible for stitches to be torn. You do not have to interrupt sewing process and carry particular elements to other working post in order to iron in non-woven fabric only to take it back to sewing machines!

Elimination of one process not only speeds up the sewing time but it is also increases the strength of non-woven fabric and the quality of product offered by your firm as well. Sewing the band is easier due to leading lines, i.e. thin lines located on the surface , and sewing in the band itself takes incomparably less time than in traditional process.

We have been selling our product abroad where it is highly appreciated among the recipients..The need of band manufacturing was generated several years ago by one of the leading Western brand. Today ,we would like Polish firm ,wanting to increase their processing capacity by lowering their costs at the same time, to take interest in our product.